Though almonds are a perfectly palatable fuss-free snack, there are several paths to be charted in the realm of almond preparation. If you're looking to incorporate more almonds into your diet, we've compiled a round-up of some of the most innovate almond recipes for your inspiration.
Paleo Almond Bread
Photo and recipe via Fat Girl Trapped In a Skinny Body
'Low-carb' and 'bread' are two terms that don't sound like they should be paired together in the same sentence. But, as Whitney Houston once wisely crooned, there can be miracles if you believe.  By using bananas and almond meal as the foundation for this bread recipe, this unlikely partnership comes to fruition. It's a dense bread that feels sweet, but it doesn't make you feel lethargic after you eat it.
Almond Burgers
Recipe and photo courtesy of Cooking On The Weekends
The idea of a 'burger' may or may not irk you if you're on a plant-based diet. If gluten makes your tummy rumble (in a bad way), and meat isn't your thing, and soy certainly isn't your thing, consider making these crispy quinoa almond tomato burgers for a change. You'll be able to munch on a patty that is delicious, nutritious, and free of whatever doesn't serve you. The perfect patties for summer patios.
Caramelized Cinnamon Almonds (No Refined Sugar)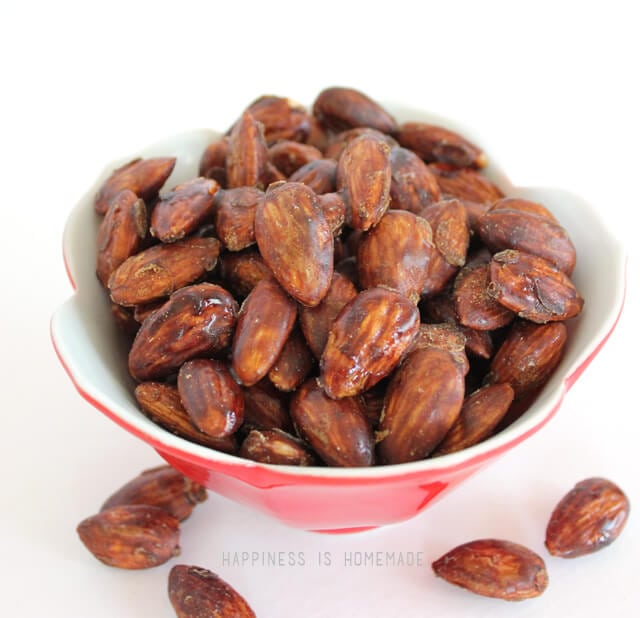 Recipe and photo courtesy of Happiness is Homemade
As devilishly delicious as M&Ms may be, they aren't the healthiest treats for you. Munch on caramelized cinnamon almonds for your next movie marathon. With just 4 ingredients and 10 minutes of preparation time, these almonds become coated in a candy-like cinnamon glaze.  Simmered in coconut sugar, water and cinnamon, these almonds are the best blockbuster snack.
Some of our other favourite roasted almond recipes: 
Homemade Almond Butter
Recipe and photo courtesy of Allsortsofpretty
Let's face it: nut butter is expensive. The kind of expensive that will make you and your wallet sob rather violently upon purchasing a small mason jar full of the stuff. Why not just opt for the cheap hydrogenated peanut butter in the next aisle? (Hint: it's not that good for you). The solution is simple: make almond butter instead. All you need is an awesome food processor, almonds, and a spatula. Spread it on ALL the things, or incorporate it in a smoothie (no, we're not crazy).
Fig and almond butter smoothie
Recipe and photo courtesy of Kitchenconfidante
Told you, we're not crazy. Use some of that homemade almond butter and churn it into an amazingly creamy smoothie. With figs, almond milk, almond butter, and a ripe banana, you really can't go wrong with this sweet and velvety post-workout treat.
Apple almond energy bites
Recipe and photo courtesy of My Whole Food Life
Another excuse to put that homemade almond butter to use! These energy bites taste just like apple crumble, without the extra fluff. Adjust the sweetness to your liking, pulse all ingredients in a food processor, and you have a deal.
Other amazing almond recipes (energy bites):
Almond Coconut Cocoa Overnight Steel Cut Oats
 
Recipe and photo courtesy of Pineapple and Coconut
When your mornings get rough, rely on overnight oats to save the day. This breakfast is portable and filling. It'll cheer you up on your worst of days and it'll make the best of days even better. A trifecta of slivered almonds, almond butter, and coconut milk (can easily replace with almond milk) makes these overnight oats worth repeating.
Almond Pistachio Frozen Yogurt (No Ice Cream Machine Necessary)
Recipe and photo courtesy of Nutritionist in the Kitch
Many dessert enthusiasts have dreamed the dream of making their own ice cream at home, only to have their hopes shattered because they didn't own an ice cream maker. Fret no more. Here's one pistachio almond frozen yogurt recipe that requires no ice cream maker. No regrets, just fro-yo.
Almond flax pizza crust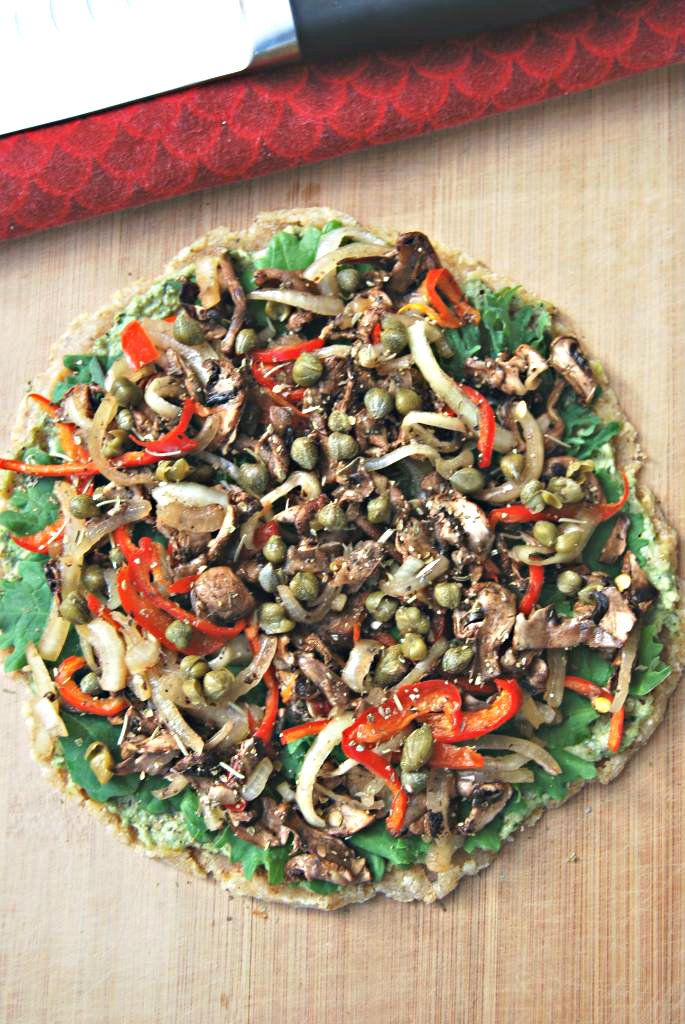 Recipe and photo courtesy of Addicted To Veggies
In pizza, we crust (literally). This crust comes together with just 5 ingredients: almond meal, flaxseed meal, nutritional yeast, salt, and pepper.  You'll have a pizza base that is easy to make and easy on the stomach.
Almond Cheese
Recipe and photo courtesy of lands and flavours. 
Wait, what? Almond cheese. Vegans will delight in this creamy and crumbly cheese made with almond meal. Make it as fancy as fancy can be: the recipe urges you to adorn this mozzarella-like marvel with minced herbs or chopped nuts. Do it, and even top your almond flax pizza crust with it.
Almond crusted salmon sticks
Recipe and photo courtesy of Wishful Chef
Remember fish sticks? Remember the fond childhood memories that fish sticks evoke? Do without the bread crumbs and start crusting omega-3 rich salmon with almond crumbs! It's dairy-free, gluten-free, and ready in 20 minutes.
Date-sweetened horchata
Recipe and photo courtesy of the Minimalist Baker
Most horchata recipes call for almond milk, rice milk, water, vanilla, cinnamon, and simple syrup. Make it a notch healthier by sweetening your horchata with dates instead!  It's a better way to make a saccharine horchata, without the guilt.
Why almonds, anyway?
Almonds are nutrient-dense: Just one serving of almonds is filled with calcium, protein, iron, vitamin E, and fibre
Almonds help with weight control: High in monounsaturated fats and protein, almonds have proven to mitigate the risk of weight gain in adults.
Almonds help control blood sugar: Pairing almonds with your meals can regulate spikes in blood sugar, according to a 2007 study published in the journal Metabolism.
Find more information about almonds here and share your favourite almond recipes with the PumpUp community!