Five years ago, I started my fitness journey with Beachbody programs as a customer. I joined countless gyms, worked with personal trainers, took up running, and yo-yo dieted. Nothing worked for me. I never felt comfortable training in gyms and wasn't able to feel the sense of accomplishment and satisfaction that Beachbody programs give me. What makes these at-home workout programs so special? Here's a guide that will help you to distinguish the differences between them all:
Focus T25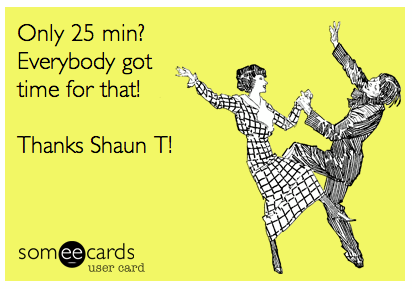 FOCUS T25 is a program created by Shaun T, also the creator of Insanity and Insanity Max30. It's made for those who want an effective workout in a short amount of time. In just 25 minutes, this program will make you sweat as if you had worked out for an hour. It combines a mix of cardio, as well as strength, agility, and weight training.
Why I love it: You feel a deep sense of satisfaction at the end of FocusT25 because it's fast and efficient. I've always struggled with time and I know that I'll feel bad about myself at the end of the day if I didn't get my workout in. 25 minutes is very reasonable for me, and everybody surely has at least that much time to work out. I can't wait to do it again after I give birth to my baby. Find out more: Click here to watch the video
Difficulty Level: Beginner – Intermediate
ChaLEAN Extreme
ChaLEAN Extreme is a program by Chalene Johnson, the creator of TurboFire and PiYo. If you love weightlifting and want a sculpted and lean body, this program is for you! You'll build tons of muscle. The workouts are between 30 to 50 minutes, you can lose up to 60 percent body fat in just 3 months.
Why I love it: Though I'm more of a cardio girl, I tried out this program because my friends had amazing results within their first 30 days of starting the program. After losing 25 pounds after doing Insanity 5 years ago, I wanted to increase my muscle tone. ChaLEAN Extreme was the perfect match for me. Until I got pregnant, I combined this program with other Beachbody programs. This helped me to get the results that I wanted, and I got my confidence back! Find out more: Click here to watch the video!
Difficulty Level: Advanced
PiYo
PiYo is another program created by Chalene Johnson. It's a low-impact series of routines that mixes Pilates with yoga. It's quite dynamic - and you'll only be using your body weight to do all the heavy lifting. It's easy on your knees: no jumps required. All you'll need is a yoga mat.
Why I love it. PiYo is one of the few BeachBody programs that helps you to build strength and flexibility while calming your mind. The best part about PiYo is that I feel like I'm strengthening my mind and my body at the same time. I'm able to focus on the state of my emotional energy and my breath. I stretch plenty, making sure that I'm in tune with my body. This is why I got my certification as an official PiYo instructor. If you haven't tried program one in a gym yet, look up for PiYo Live classes!!! Find out more: Click here to watch the video!
Difficulty Level: Beginner – Intermediate
21 Day Fix
The21 Day Fix is a program by Autumn Calabrese, creator of the 21 Day Fix Extreme and author of the FIXate Cookbook. The beauty of it is that the program also helps you to focus on nutrition and portion control. 80% of your success happens in your kitchen. Why I love it. Autumn knows how to kick your butt and makes you do work! I started with the 21 Day Fix program for portion control and for 30-minute workouts. It's a great place to start if you want to lose weight and struggle with your nutrition. With the 21 Day Fix, you DON'T count calories, macros etc. Autumn has simplified the nutrition part of the program to help you remain motivated and consistent. For me, this ended up being a huge time saver and source of motivation. With Weight Watchers and other diets that involved calorie-counting, I ended up feeling so down about myself! Find out more: Click here to watch the video!
Difficulty Level: Beginner – Intermediate
21 Day Fix Extreme
Much like its predecessor, the 21-Day Fix extreme is an incredibly effective way to buckle down on your nutrition. The difference is that these workouts are more difficult - making you work harder than ever before.
Why I love it : The 21 Day Fix Extreme has the word 'extreme' in it for a reason. Autumn amps up the intensity of the workouts so that you can lose your last 10 pounds. The portion control aspect of the program uses coloured containers to help you compartmentalize things better. Find out more about the 21 Day Fix Extreme: Click here to Watch the video!
Difficulty Level: Advanced
On October 19th we will start "pre season": our plan and prep week! I am going to create a closed online Facebook Wellness & Support Group where each person is required to join! Each person is required to assign me as their coach on Team Beachbody. You can do that here: Create A Free Account . You can choose the Beachbody Fitness Program that suits your needs and budget.
Secondly, each person is required to replace 1 meal a day with Shakeology. Either breakfast, lunch or dinner. There is no right or wrong meal you can replace Shakeology with. It's truly whatever meal you struggle with most. Shakeology is not a protein shake, but it is a high quality, nutrient dense meal that has the right protein and carbohydrate ratio to keep you full for 2 and a half to 3 hours. You can still use your protein powders post workout or as a supplement but this is different, shakeology is a meal. I find that people get better results, have decreased cravings for sweets, it keeps your blood sugar stable and you are healthier! It's the nutrition that most do not get from their food in one glass.
But, I am also going to teach you how to plan out your meals, what are some healthy snacks, dinners and lunches. Together we are going to work to give you a well rounded healthy balanced mind and body perspective on your health and your mental health. The program is 21 days long! You are required to check in daily to the group and report your progress with your food and your workouts.
Does this sound like something you would like to do?
If you are interested please complete this application to be considered for a spot in the group.
Space is limited and it's first come first to commit get the spots.
This post was written by PumpUp member @coachmelissa. Let her know your thoughts about these Beachbody programs in the comments below!