There's no better way to spend quality time with your kids than to get busy in the kitchen. Set aside your paperwork for a few minutes.  There are so many nifty and quick recipes available for you and the whole family! Check out these 9 ingenious healthy recipes that you can try with your kids.
Fruit Smoothies
Everybody loves fruit and kids definitely love blended fresh smoothies. Smoothies are one of the simplest drinks you can make with your kids. To concoct a delicious fruit smoothie, all you need are simple ingredients. It can vary from berries to bananas, a cup of milk, plain yogurt (some use vanilla ice cream as substitute), and a great blender. Find some creative smoothie recipes here.
Apple cookies
Image source: rachelschultz.com
Kids will especially love to eat and make these cookies! While apple cookies are not your typical baked good, they're just as yummy as a cookie can be. All you need to do is slice up an apple into thin rings and remove the core. Get creative with the toppings of your choice: you can spread on some natural peanut butter or almond butter and layer it on one side of the apple ring. Then add almonds, pecans, coconut shavings or chocolate chips.
Apple sandwiches
If your kids love apples so much, why not make bigger portions of the previous recipe? You can stack apple cookies and turn them into bite-size apple sandwiches. Add a dash of cinnamon and drizzle on agave syrup or your choice of sweetener.
Watermelon Pizza
Image source: Sweet Simple Vegan
There's no question that pizza is a classic favorite. Watermelon pizza is one dish that you can easily make with the kids and leave you feeling guilt-free! Slice up a beautiful watermelon for your base, add small slices of fruits and berries, then drizzle it with honey or dust it with coconut flakes.
Oatmeal Muffins
Oatmeal may be considered as the healthiest go-to food because it can help to manage diabetes and lower cholesterol. Though it may not be as effective as actual prescribed medicine for diabetes, oats can still be made into great treats.  For a simple way to prepare oatmeal muffins, use rolled oats and ripe bananas, coconut or vegetable oil, and vanilla extract. You can add walnuts or other dried fruit for extra flavour.
Banana Wraps
Image source: unconventionalkitchen.com
Bananas are the most common fruit that you will find in kiddie treats because they are naturally sweet. Pair them up with low fat cream cheese or almond butter to make a scrumptious treat! Toast tortillas, whip the cream cheese together with a dash of cinnamon, then drizzle on some honey. Add sweet, fruity bananas and roll them to perfection. Quick, easy, and definitely one of the best healthy recipes to try with your kids.
Baked Pancake Muffins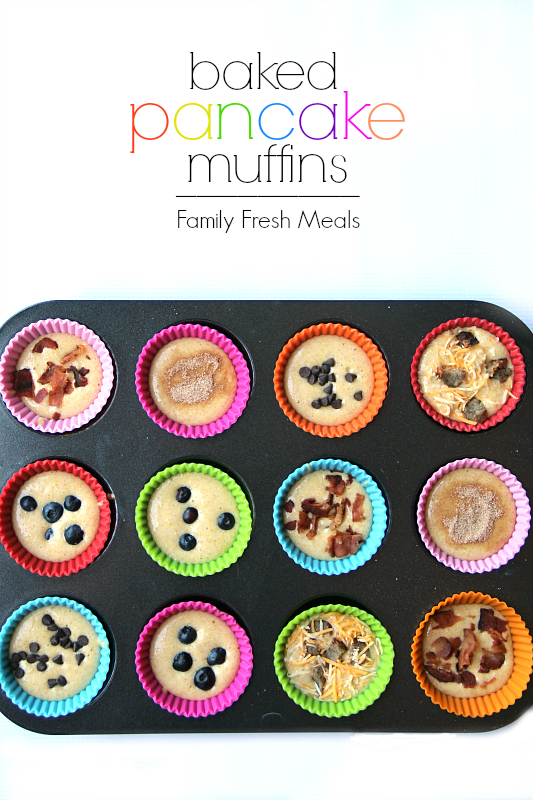 Image source: Family Fresh Meals
Love pancakes and muffins? How about having them together in one treat? Pancakes are super easy to make, and they taste even better in muffin form. All the ingredients you need for this recipe are wholemeal flour, plain flour, sugar, baking powder, eggs, milk and (of course) your choice of berries. If you want to make it easier, just use your favorite healthy pancake mix.
Frozen Yogurt Bark
Photo courtesy of My Fussy Eater
Looking for a healthy alternative to sugary iced lollipops? These yoghurt barks are one of the easiest healthy recipes that you can try with your kids. You might have trouble keeping their hands off while making them. Mix the yogurt of your choice with some almonds and your favorite berries. The kids can get creative as well and add some chocolate chips if they prefer. Freeze for 2 to 3 hours until the yoghurt bark is solid. Then break into smaller bite-sized pieces.
Frozen Banana Nutella Bites
Image source prettyprudent.com
Getting adventurous with food is the best way to encourage creativity with your kids. These banana bites are easy and divine.  Nutella, rice krispies, nuts, coconut shavings and (of course) bananas are the only ingredients you will need. Spread some Nutella on the bananas and roll them through the rice krispie, nut, and coconut shaving mixture.
Author Bio:
Ianna Reign Stevenson is a professional writer based in London, England. She is a young mother of a 3 year old toddler and a working mom. Connect with her on Twitter.