The temptation to skip a workout might be strong, especially on dreaded Mondays. Don't let it get the best of you. Breathe deep, muster up all the energy you have, and go. The only workouts you'll regret are the ones you didn't do. You'll be so much stronger for it. Here are some great and inspiring quotes to motivate you to get off the couch and slay the daunting workout dragon.
Running moves you forward in more ways than one
It's called runner's high for a reason. You'll feel a sense of exhilaration after you run. It's a great form of stress relief and it will help you clear your mind on a difficult day. Photo via PumpUp member @johannavareladg
You have a choice. You can throw in the towel, or you can use it to wipe the sweat off your face.
Even if running isn't your thing, don't throw in the towel.  Though gym membership retention dips to a resounding low after 6 months, you can be part of the minority who chooses to tough it out. Pick yourself up and wipe the sweat off your face. Try again and try harder.   Photo via PumpUp member kitty_kat1
The longer you wait for the future, the shorter it will be.
When you lose your excuses, you'll find your results. We're wired to take the easy route. Saying 'no' is an almost automatic response. This time, say yes to your health and fitness goals.  Photo courtesy of PumpUp member @caitlynsadler1
Forget all the reasons why it won't work and believe in the one reason why it will.
Believe in yourself and clear your mind of 'can't'. Exercise has been proven to enhance self-esteem and even alleviate symptoms of depression.  Photo via PumpUp member alannahcran.
The dream is free, but the hustle is sold separately
Believe in the beauty of your dreams and hustle hard. Today's struggles will give you strength for tomorrow (and the days after). Photo via Pinterest
Whatever you want to do, do it. There's only so many tomorrows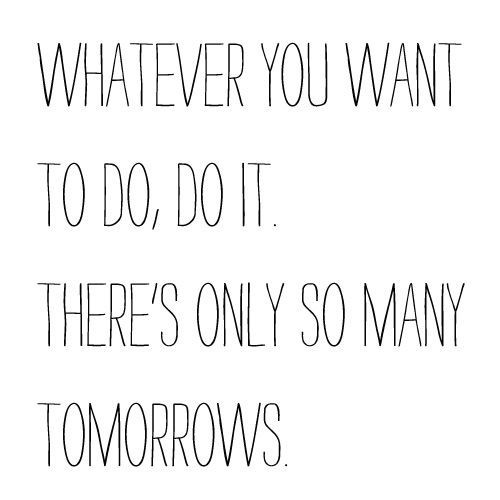 The sun will always come out tomorrow, but you can do something about your dreams today. Yesterday, you said 'tomorrow'. Photo via the Huffington Post
The most effective way to do it is to do it
The Nike slogan is pretty darn effective, isn't it. Stop thinking about the reasons why you will fail. Struggles are inevitable along any fitness journey. Don't be afraid to challenge yourself and don't give up (after all, look where perseverance got Amelia Earhart).  Photo via theberry.com
Always be a first rate version of yourself instead of a second rate version of somebody else
When it comes to personal achievement, never settle for a second-rate. Comparison is the thief of joy. Do what works for you at your own pace. Photo via theberry.com
Above all, be the heroine of your life, not the victim
You are the heroine of your own story. Don't fall victim to laziness. Fight for yourself and stand up for your goals. Photo via Pinterest
Consider what a long way you've come today
When you think about giving up, look back. Make a list of any and all victories that you've accomplished over a certain time frame.  Photo via words over pixels
Stop waiting until you "feel like it." Just do it
Take the leap and commit to yourself (but no, you don't have to go skydiving). Find small things that work for you and stick to them. Photo via Tumblr
I am in the right place at the right time, doing the right thing
You can be as slow as Internet Explorer or as fast as the Road Runner.  Keep doing you, at your own pace, one step at a time. Photo via behappy.me
Did these quotes motivate you to get off the couch (or at least incorporate a little more physical activity in your day)? Let us know in the comments below! Share your favorite motivational quotes on PumpUp with the #MotivationMonday hashtag and share your favorite workout pictures on Instagram with #TeamPumpUp so that we can cheer you on!