How to master the frog stance
Ello #PumpUpFamily I'm here to talk to you about the Frog Stance. This is the first step in any journey to extreme balancing, such as Planche, Handstands or Break Dancing.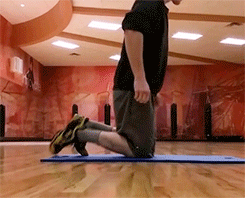 This move is accomplished by spreading out your fingers and placing your hands in front of you, a shoulder width apart.
Once you do this, you gently rock your weight forward, knees to elbow until you are supported by your arms alone. 

Once mastered you get into variations. You can extend a leg and retract, then the other, and eventually both at the same time.
You can jump your right knee to left elbow, and the same for the opposing side.
To me this is like a game to see what I can jump on, to see how creative I can get on my journey to extreme fitness, and to see if I can reach my goals of packing four years of training into one.
I often spend five or six hours a day dedicated to fitness: about three in the gym; two running; and always a full hour running around Manassas VA.  To keep limber, i make sure my final hour of fitness is dedicated to balance and yoga.
I will catch up to the great Simon Ata, Frank Medrano and Sam Tribble. It is only a matter of time.
My ultimate goal is to be a CPT for extreme training.  Help me out by following me and asking questions, or by answering me when I have questions of my own!
Good luck out there Team PumpUp!
Check out these great talents:
Finally, feel free to subscribe to my channel, https://www.youtube.com/user/MrBloodRedIce
Kik: shogunMcb
Line: bushido_ice


This is a post by PumpUp member Michael Chase. Follow Michael on PumpUp @michaelb23579, subscribe to his YouTube channel, and check out his Instagram @mcb23579. 
For questions, contact Michael on kik (shogunMcb), Line (bushido_ice), or Facebook.