It is so challenging to give health and fitness advice when we are all so different. I come from a background where I learned to form healthy habits from the beginning by doing physical labor on the farm as a kid, and not having very many unhealthy foods available in our house. Each of us has a different story, different habits, different body types and levels of willpower. I came up with some tips to help those who struggle perhaps to create new habits. These are things I have done myself to get back into a healthier routine if I had lapsed in my discipline.
Keep a well-stocked pantry
(
Source: giphy)
If you stock your fridge and pantry with food that suits a clean eating, nourishing lifestyle, and keep out the foods that negate that, you won't have to fight temptation as often. I keep protein options around not only to build muscle but also to cut my sugar cravings if I have them. I keep fruit, both fresh and dried, around to satisfy my moments of wanting dessert. Or I make 3-ingredient pancakes (eggs, banana, & nutmeg) if I'm dreaming of cake. These choices at home also mean I can go to meetings or to visit my family and not have to say no to everything. I can eat a little of what is offered without being rude or strange, and not feel horrible about myself because I know when I go home, I will be back into my clean food routine.
Wake up, workout (and quickly)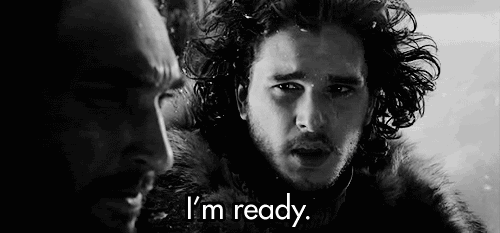 Working out right after you get up in the morning, even for just 15 minutes, helps you wake up and build confidence for your day. Setting your mindset into 'active' mode right away helps you enter your life with a lighter, brighter outlook and you will be energized. If your day becomes super busy you won't arrive home at night and say, "Dang, I didn't have time to work out today." You won't have to deal with days on end that are too busy if you set that alarm 15 minutes earlier just to get your squats, crunches, push ups, or a mile on the treadmill in. It's one way to start, and build in that habit. I know for me, I'm super tired when I get home from work, so some days if I just give in to that feeling and don't work out in the afternoon, I don't feel bad about myself because I did my 30-minute workout in the morning.
Challenge yourself during breaks
(
Source: giphy)
You get a break during work. These are great moments for those 30-day challenges, especially the squat challenge which you could do anywhere, as they take very little time yet definitely help progress. Do some push-ups, pull ups if you have a spot, squats, lunges. It all adds up, and vastly improves your ability to form healthy habits by helping you to integrate workouts into your routine, no mater how busy you are. These challenges can also kick sluggishness, as long as you are staying nourished throughout the day as well.
Packing enough food is super helpful for anybody looking to form healthy habits. I pack more than I need, just so I don't get tempted to go out and buy something when I'm hungry (this is also because I'm working on keeping a healthier budget!). Ziplock bags of measured amounts of fruit, nuts, seeds, vegetables; containers of healthy leftovers or if you're one of those organized people who preps their meals every week; some protein or energy bars that are made with more natural ingredients. Smoothies and your favorite protein drink are wonderful things to carry around with you!
These are just a few things for those of you looking to build stronger, healthier habits and needing some advice on how to do it and stick to it. Most of all, try and enjoy the journey: discovering simpler food and how good it actually is, how strong you are and can be, and progressing step by step on the path of changing lifetime habits. Human beings are so amazing, we get to choose what we do in every moment and how we do it. Keep up the good work, and may you be the healthy person you dream of being!
This is a post by PumpUp member @bodysoulspiritfitness, a teacher and movement artist with a passion for healthy living and adventure. Follow her blog here.