Whether you identify as a vegetarian, a vegan, or neither, there's an easy way to incorporate more protein into your diet. The answer, friends, is edamame. These tiny green soy beans are packed with protein and fibre.  According to WebMD, just over 1 cup of shelled edamame contains as much fiber as 4 slices of whole wheat bread. What's more, a 1 cup serving of cooked edamame contains a whopping 17 grams of protein.  Pretty neat!  You're more likely to find the frozen variety available for purchase, which means that you won't have to worry about them expiring on you. Stock up on edamame and you won't be sorry (but limit yourself to one serving a day).  Though these legumes are perfectly delicious on their own, here are a few of the best edamame recipes from the Internet for your culinary inspiration.
Roasted edamame
Boost the flavour of these green beans by roasting them. Toss them with olive oil, lemon zest, black pepper, and your favourite spices before popping them in the oven. (PureWow)
Edamame hummus
You already know that chickpeas make a great dip base. Entertain with edamame and have your tastebuds hum with delight. We love this ginger wasabi edamame hummus from Gimme Some Oven, as it lends a novel, punchy flavour that'll have you coming back for more. (via RachelCooks)
Stir-fried edamame
Instead of fried rice, try making this edamame and kale fried quinoa. You'll up your protein and fiber intake in one go. Plus, it's delicious so revel in excitement. (Fitness Magazine)
Edamame Soup
When simmered with zucchini and blended in a food processor, edamame instantly makes batches upon batches of comforting and creamy soup. (CircaHappy)
Edamame Stew
Warm comfort food and good-for-you ingredients in one bowl. Edamame stew is one that will not disappoint. (Oh She Glows)
Edamame Pho
Sometimes, you walk into a Vietnamese restaurant and all you want is pho noodle soup. Make it next-level nutritious by adding some edamame. (WhatsCookingGoodLooking)
Edamame Noodle Salad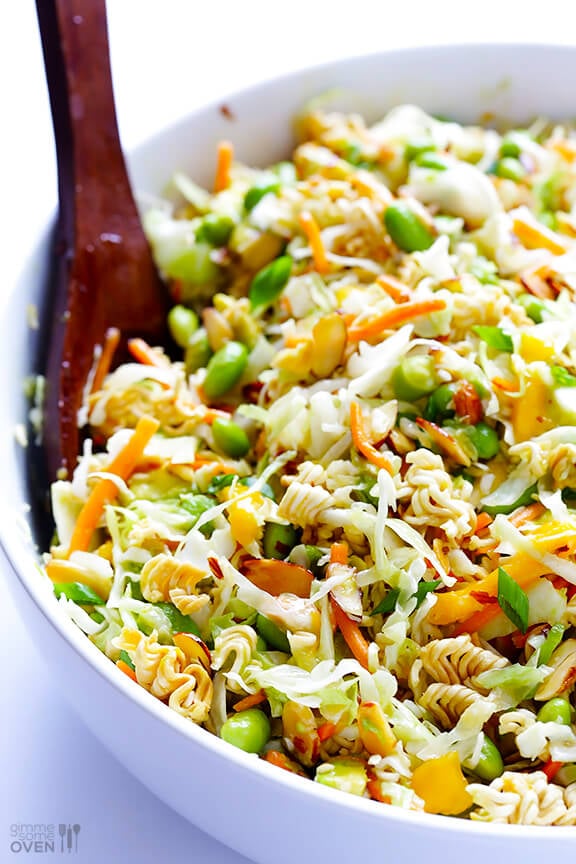 Move over, late-night microwave ramen noodles. Make this crunchy asian ramen noodle salad on your designated meal-prep day and you'll have lunch for days. (Gimme Some Oven)
Edamame burgers
Packed with pistachios, mint, chickpeas, and edamame, this green burger is ultimate. Paired with avocado mint dressing, savour in the sheer glory of this edamame burger. (MilkingAlmonds)
Edamame quinoa collard wraps
Collard wraps are portable. Edamame is wonderful. Pair two and two together and you have a winning combo. (Eat Spin Run Repeat)
Edamame salad
This is one salad that you'll actually be happy to eat. PumpUp member @lentil adds carrot and zucchini noodles, arugula (rocket), quinoa, snap peas, radishes, and edamame beans.
Love edamame? Have great edamame recipes to share with us? Let us know in the comments below!